1918

January 20 - Father Marian Żelazek is born in Palędzie near Poznań, from parents Stanisław and Stanisława as the seventh child from among 16 children (including two adopted ones)

February 10 - baptism in Skórzewo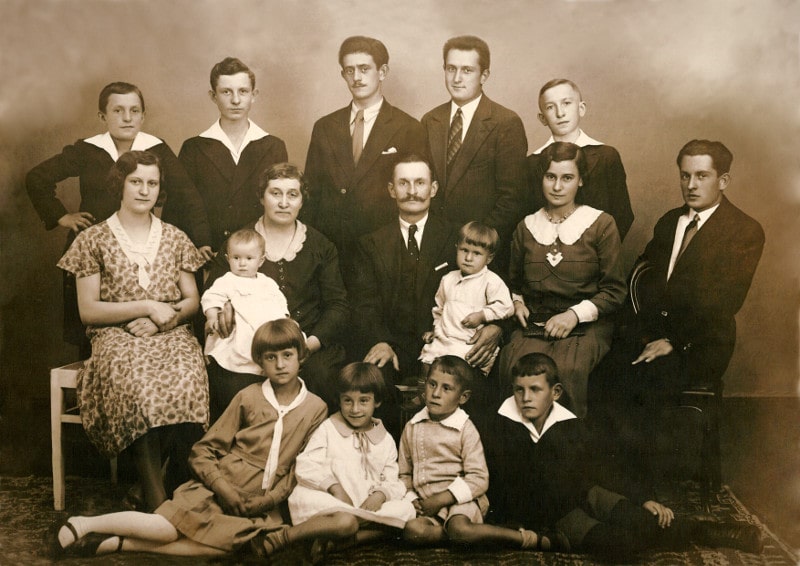 Zelazek's family. Marian standing in top row first from the right (fot. Fr. Marian Zelazek's archive)

1925

beginning of education at the local primary school

1926

Żelazek's family moves to Poznań

1930

beginning of education at the St. Maria Magdalena Gymnasium in Poznań

1932

beginning of adventure with the Society of the Divine Word: further education in the lower seminary, officially known as SVD Male Gymnasium in Górna Grupa in Pomerania


1937

September 8 - beginning of the novitiate in Chludowo near Poznań


1938

September - beginning of philosophical studies

1939

September 4 - taking the first religious vows

1940

May 20 - graduation from philosophical studies

May 22 - deportation to Fort VII in Poznań

May 25 - concentration camp in Dachau

August 2 - concentration camp in Gusen

1941

December 8 - return to the concentration camp in Dachau

1945

April 29 - liberation of the Dachau camp by US troops

from November - theological studies at the Anselmianum University in Rome

1948

September 8 - perpetual vows

September 18 - priestly ordination in Rome after the third year of theology

1949

completion of studies in Rome; one month in Poland (after 9 years), first Mass in Poznań

one year of work among Polish refugees in Bagnoli near Naples

1950

March 3 - setting off from Genoa on board of the Dutch merchant ship "Laurenskerk" on the mission to Sambalpur in India in the state of Orissa

March 21 - arrival in Bombay (today Mumbay)

April 4 - beginning of the mission among Adibasi, the original ethnic groups in India


1951

headmaster of primary school and the only gymnasium (lower seminary) in Hamirpur

1964

Kesramal, supervisor of all 171 Catholic schools in the Sambalpur mission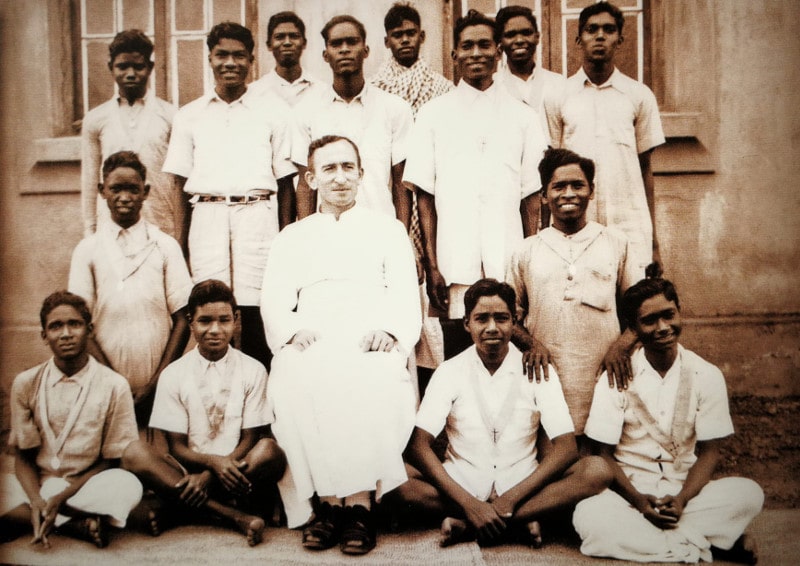 Fr. Marian with pupils in Sambalpur (fot. Fr. Marian Zelazek's archive)

1968

parish priest of the new mission in Bondamunda with 5 stations;

opening of the sanctuary of the Holy Mother of Częstochowa

1975

June 1 - beginning of work in the holy Hindu city of Puri on the Bay of Bengal


1980

opening of a leprosarium in Puri

1984

opening of a school for children from lepers' families


1985

December 11 - consecration of the Church of the Immaculate Conception of the Blessed Virgin Mary in Puri, with ceramics of the artist Janina M. Karczewska-Konieczna from Gdańsk

inauguration of the Centre of Spirituality and Dialogue (Ishopanthi Ashram) with the Christian library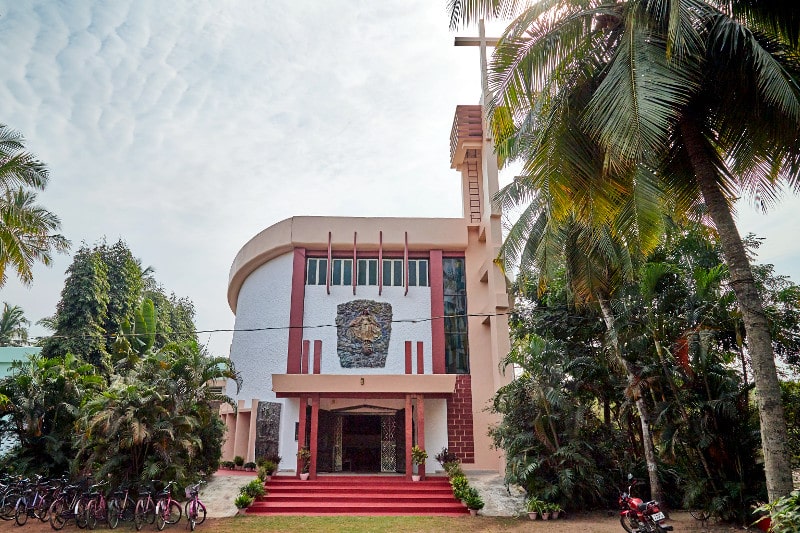 The church of the Immaculate Conception of the Blessed Virgin Mary in Puri (fot. Andrzej Danilewicz SVD)

1988

opening of a shelter for homeless lepers "Dharamsala"

1989

November - "Karunalaya - Cottage of love and mercy", a small hospital for lepers in critical condition


1991

resignation from the post of the parish priest; Father Żelazek becomes a bonopasi - hermit in an ashram; he continues looking after the lepers' village


1998

Golden Jubilee of Priesthood - Poznań

June 16-24 - "Zamek" Cultural Centre: "In the Indian land. 48 years of life among Adibasi and lepers" - photographic exhibition on the occasion of the 80th birthday and 50th anniversary of priesthood of Father Marian Żelazek, SVD (organized by the Humanitarian Aid Foundation "Redemptoris Missio")

June 22 - hall of the University of Adam Mickiewicz in Poznań, conferring the medal inscribed "To those who do good" by the Humanitarian Aid Foundation "Redemptoris Missio"

September 4 - photographic exhibition "The missionary of lepers - Father Marian Żelazek SVD", organized by the "Wspólnota Polska" Association at the Polonia House in Warsaw

"May God Repay" medal awarded by the magazine "Powściągliwość i Praca"

1999

April 9 - Knight's Cross of the Order of Polonia Restituta, presented by the Polish Ambassador to India

October 3 - medal of Karol Marcinkowski awarded by the Medical Academy in Poznań for merits in providing charity and medical aid to lepers

2000

November 12 - India. Khrist Jayanti. Millennium Celebration Certificate of Merit. Diploma of recognition of the Catholic Diocese of Rurkel for 2000 years of Christianity awarded to Father Marian as an expression of gratitude for his work

2001

May 26 - the BBC broadcasts a 45-minute documentary "New Face of Leprosy", in which the work of Fr. Żelazek is shown

2002

notification of candidacy for the Nobel Peace Prize

January 9 - Amber Order of the Lotus Flower with the Cross for Contribution to the Missionary Cause, awarded by SVD Mission and Charity Foundation of Blessed Józef of Szantung Mission in Pieniężno

January 30 - World Day of Leprosy, in the Congress Hall of the Palace of Culture and Science in Warsaw, a charitable concert was organized: Touch and understand. Poznań Nightingales sing for lepers. Purpose of the concert - to support leprosy centers established and run by Poles, fundraising for the extension of the integration school in Puri, and promotion of the person of Father Marian Żelazek SVD, candidate for the Nobel Peace Prize.

June 14 - Nationwide Missionary Congress in Gdańsk - exhibition dedicated to Marian Żelazek's missionary work

June 15 - School Complex in Chludowo near Poznań is conferred the name of Fr. Marian Żelazek

August 3 - Pompeian Room of the Episcopal Palace in Poznań - handing the "Golden Hipolit" statuette and the Honorary Diploma of "Outstanding Personalities of Organic Work" (on the initiative of the Poznań County and the Hipolit Cegielski Society)

2006

January 21 - opening of the Dialogue Center - Ishopanthi Ashram

April 30 - Father Marian Żelazek dies in Puri, at the moment when he ends his visit in a leper colony

May 2 - funeral at the SVD cemetery in Jharsuguda, India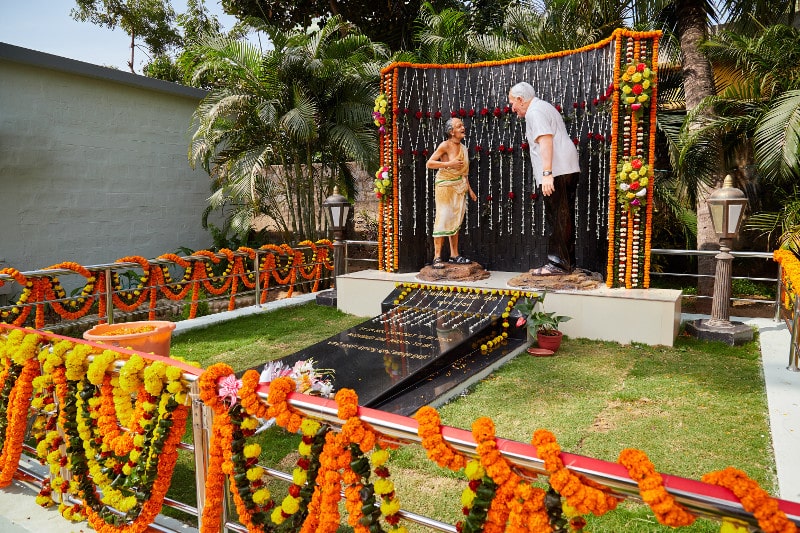 The tomb of fr. Marian Zelazek in Puri decorated for 100th anniversary of missionary's birth (fot. Andrzej Danilewicz SVD)